I've been a Blizzard fan for a long time, dating back to about 1998 or so. Much to my surprise, I recently got invited to the Heroes of the Storm technical alpha. I nearly squealed audibly when I got the email, and I couldn't wait to get into my first game. Now that I've been playing for a couple of months, I thought I'd share some observations about the state of the game as it is now, and where I hope it will go in the future.
First of all, for those who do not know, Heroes of the Storm is an interesting entity. A few years ago, Blizzard announced that they were working on a
MOBA
game, which is interesting because the MOBA genre pretty much began as a mod to Warcraft 3's multiplayer. Blizzard took no action to capitalize on it, so it seemed to a lot of gamers that Blizzard was simply jumping on a bandwagon with Heroes. While that may possibly be true, they have blazed forward and have created the
technical alpha we have now. But, just what sets it apart from other MOBAs exactly?
I am not a fanatic MOBA player. I never reached level cap on LoL and only played a couple of games on Dota 2. I've never touched Heroes of Newerth or Smite. So, please, take anything I say about MOBAs in general with a huge grain of salt.
As of this writing, I am level 12 and I suppose I have played upwards of 40 games. But, I can already feel quite a distinction from other MOBA games. There are several ways in which Heroes differs from "standard" MOBA conventions, and they are readily apparent from the moment your first game starts.
Match Progression
In a typical MOBA game, two teams made of 5 players each attempt to destroy their enemies' base. Along the way, each player gains XP and money by killing other players, creeps, and NPCs. XP translates to a character leveling up which makes their character stronger. Money is often used to buy items to customize certain stats of a character on the fly. It's a tried and true system that many games in the genre use with some slight variations.
Heroes of the storm uses the same framework, but tweaks it more than I've seen done elsewhere. Unlike most other MOBAs, characters do not level up individually. All XP is shared across a player's team. This helps prevent less experienced players from falling behind and dragging their team down as much. It also helps keep them involved in the action and moving the game forward.
Money and item shops are gone, as well. In their place, Heroes takes the leveling up mechanic used by other games -- wherein skill points are given and players choose which abilities to strengthen each time -- and mashes it together with the idea of an item system. Thus, the Talent system was born. As characters level up, they are given a number of character talents to choose from. For example, the witch doctor Nazeebo (Diablo 3) gets the choice to have his plague frogs get bigger and do more damage, or explode into corpse spiders. Tychus (Starcraft 2) gets the option of gaining an extra "Stoneskin" skill, or getting to move faster while firing. These talents help players tailor their hero to their play style, while providing some room to change up strategies between games. The Talent system also provides (almost) every Hero to take one of two ultimate abilities.
Meta Progression
I can best put this in terms that are used in League of Legends. In that game, the player is referred to as a "summoner" who summons and controls a champion during any given match. The "summoner" gains XP at the end of each game based on their overall performance, which helps them gain levels in a persistent system between matches. In LoL, summoners can access talent trees and a rune system that apply bonuses to any champion they play (and can have multiple saved templates to switch between).
Heroes of the Storm is not this flushed out at this time. Players do gain XP toward a leveling system which unlocks more hero talents and more game modes early on. However, the main way Heroes is setting itself apart so far is in Quests. After gaining certain ranks as a player, sets of Daily and Hero quests are unlocked. Daily quests will be immediately familiar to any WoW or Hearthstone player. These quests task the player with playing with certain types of characters for bonus XP and gold (gold is used to buy new heroes in the shop). Hero quests act more in the way an achievement would in WoW or on Xbox. The more games you play with a given hero, you begin to earn bonus XP, gold, and skins. Put together, quests help encourage players to branch out from their norm and reward them with tangible benefits.
Maps and Layout
Most maps in MOBAs are broken into 3 lanes with a sort of stream bisecting the map. Each lane has two towers per team, and the three lanes converge at the team's base. Between lanes are NPCs that players can fight for extra money, XP and/or buffs. On this map layout, the focus of the game moves from defeating creeps to team fights later on. Aside from this, there is not much else going on.
Maps in Heroes of the Storm happen to be one of my favorite innovations of the game. As of now, there are 5 different maps that vary between 2-3 lanes each. However, the lanes are not always evenly spaced, and there is rarely a stream bisecting the map. Each map is quite a bit smaller than your typical MOBA map, too, which keeps players much closer together and encourages team fights more regularly. Instead of two towers protecting each lane, there are two small bases complete with three towers, walls, a gate, a barracks, and a healing well. Most buildings can attach heroes and minions, but they also have limited ammo. This adds a very intriguing layer of strategy to pushing lanes.
NPCs still exist, but rather than being killed and providing money (which Heroes does not have at the moment), they will join the creeps in the nearest lane on the side of the team which defeated them. I have seem many games in which securing these "mercenaries" has turned the tide of a losing battle.
Each map also has a unique mechanic. On one map, players can enter a mine to defeat undead NPCs before the opposing team does. Once all undead are beaten, a golem spawns for each team with strength and hit points relative to how many undead that team defeated. Another map tasks teams with gathering 3 tributes for a Raven Lord. Once a team has 3 tributes, the Raven Lord curses the other team's minions with 1 total hp for a period of time. Yet another map places a skeleton pirate and his boat in the middle of the map. Players gather coins from chests and by defeating other players, then pay them to the pirate to launch a dozen cannonballs at the opposing team's buildings.
Map mechanics are very important, but not the only path to victory.
Character Selection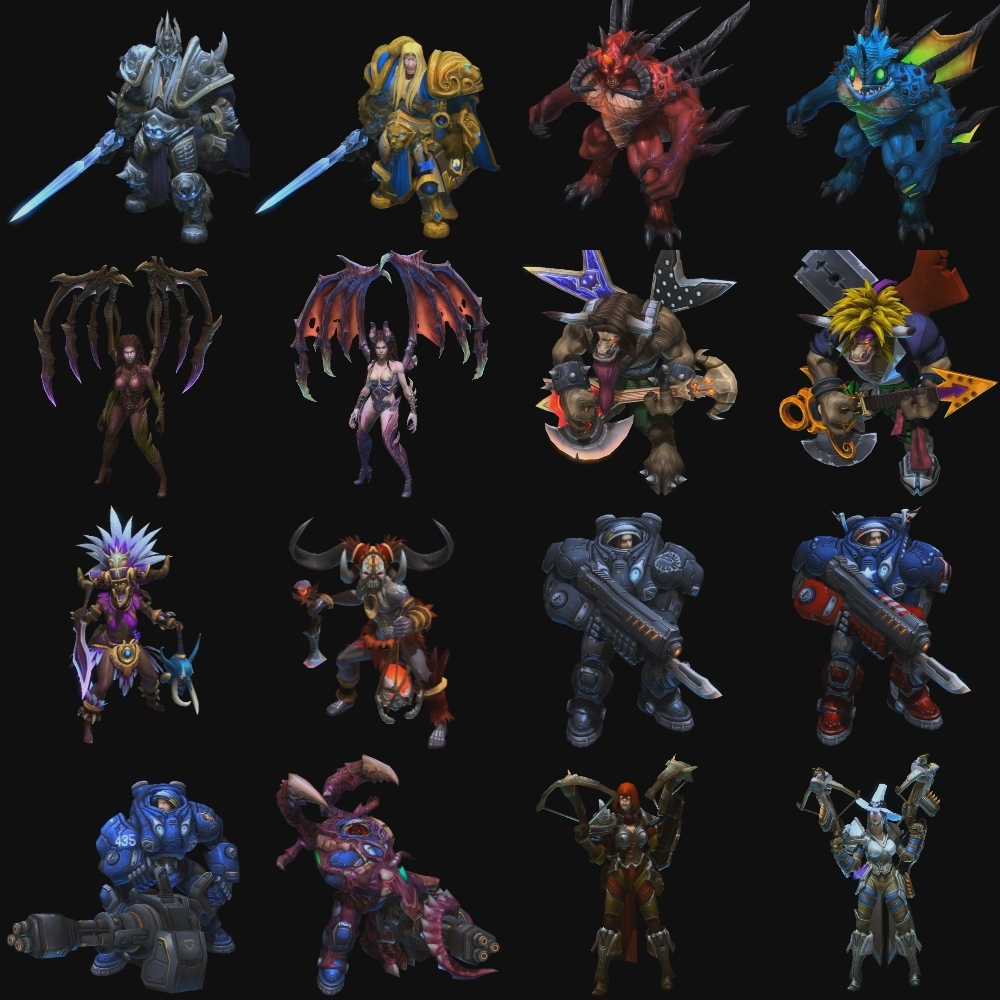 This was one of the main reasons I wanted to play Heroes in the first place. As a long time Blizzard fan, the idea of characters from franchises I've been playing for 15 years or more battling each other made me giddy. It's really a great bit of fan service from Blizzard. As of now, there around 25 different heroes to choose from. There are archetypes such as warrior, assassin, support and specialist but each Hero is very unique and contains a lot of personality. Plus, there is a ton of room for Blizzard to add more heroes to the mix. I already have a list of heroes I want to see, and Blizzard is welcoming hero suggestions. Who knows, maybe we'll even see The Lost Vikings make an appearance in some way.
Final Verdict
Overall, I've had a blast with Heroes of the Storm. While Dota 2 and LoL may still hold onto the lion's share of MOBA players, especially the hardened veterans, HotS seems like it will have something new for all players. Blizzard has removed a lot of the minutae that may daunt newcomers that try Dota or League for the first time, and crafted a game heavily dependent upon skill and teamwork. There are still a lot of pieces that Blizzard needs to add to the puzzle, though. An in-game voice chat option would be helpful, as well as a spectator mode (this is already planned) and match replays. Though a lot of streamlining has been done, It would be helpful for Blizzard to include some more in depth stat tracking of matches and with each Hero.
I can definitely see Heroes becoming a new contender in the esports realm. It will be facing some stiff competition, but there is enough to set it apart that I think we'll see Heroes gather quite a following once Blizzard opens the gates to an open beta.